With 2018 fast drawing to a close, I thought that today I would reflect upon the books I've read during the last twelve months and select my favourites. This year, for the first time, I participated in the Goodreads Reading Challenge, setting myself the modest target of reading twenty books in a year. This doesn't sound like much, but as a lot of writers will tell you, when you're working hard on your own stories it can be tough to find the time to read a lot! In the end I exceeded my target, reading 24 books between January and December. With a little over a week to go until the new year and a hefty non-fiction book underway, it seems unlikely that I'll complete anything else before Hogmanay. So, without any further ado, here are my favourite books of 2018!
Warrior Daughter by Janet Paisley
Genre: Historical Fiction
Blurb: Inspired by first century AD warrior women, Janet Paisley's Warrior Daughter is a gripping adventure about one young woman's struggle to survive in the harsh Celtic wilderness.
2,000 years ago on the Isle of Skye, a warrior is born.
Daughter of an Iron Age warrior queen, Skaaha is wild, headstrong and revered. But she is also a child, and when a chariot race leaves the queen dead and her menacing rival Mara in her place, Skaaha's charmed life lies in ruins.
Vulnerable, her future imperilled, Skaaha seeks to forge a life beyond the new queen's reach. But with rumour, fear and danger sweeping the island, she cannot remain unmoved. Broken by brutal misfortune, alone in a world of mistrust, Skaaha must unearth the courage to confront her enemies in defence of her people.
Illuminated by the great Celtic fire festivals, Warrior Daughter is inspired by the historical Scathach, a fierce warrior woman of the first century AD and forerunner to the equally ferocious Boudicca.
Rating: Five stars. An epic, heart-stopping prehistorical adventure which would work wonderfully as a film. Read my full review  here.
A Case of Serendipity by KJ Farnham
Genre: Women's Fiction, Romance
Blurb: Ruth Bateman is at her wit's end. If Bucky's Beans doesn't stop spamming her phone with discount codes for frou-frou java concoctions, she's going to flip. After multiple failed attempts to unsubscribe, Ruth takes to the company's Facebook page to vent her frustration over the never-ending texts.
When attorney, Henry Mancuso, stumbles upon Ruth's complaint, he has no idea that a simple Facebook scroll is going to change his life. Now, he has to get Ruth to agree to a class action lawsuit when she's just looking for some peace on her mobile device—not a drawn-out case against a coffeehouse giant.
As Ruth and Henry battle the legal waters, a friendship full of fun and spontaneity blooms. But could something more be brewing between these two and this coffeehouse case?
Rating: Five Stars. If you like romance without erotica, well-rounded, likable characters and uplifting plots then this book is for you. Highly recommended. Read my full review here.
Moxie by Jennifer Mathieu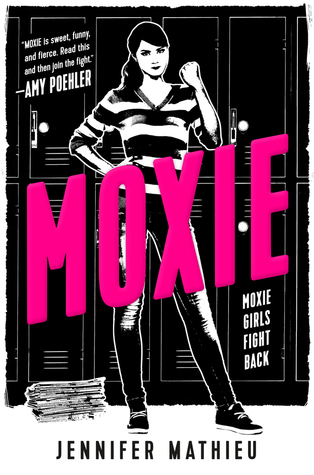 Genre: Young Adult
Blurb: Vivian Carter is fed up. Fed up with her small-town Texas high school that thinks the football team can do no wrong. Fed up with sexist dress codes and hallway harassment. But most of all, Viv Carter is fed up with always following the rules.
Viv's mom was a punk rock Riot Grrrl in the '90s, so now Viv takes a page from her mother's past and creates a feminist zine that she distributes anonymously to her classmates. She's just blowing off steam, but other girls respond. Pretty soon Viv is forging friendships with other young women across the divides of cliques and popularity rankings, and she realizes that what she has started is nothing short of a girl revolution.
Rating: Five stars. A highly entertaining, relevant and powerful read. Read my full review here.
Poets Pass by Hillary DeVisser
Genre: Women's Fiction, Romance
Blurb: Dr. Avery O'Gara is a psychiatrist who doesn't trust men any further than she can throw them. She prefers her boundaries high and her trysts without emotional ties. She likes her privacy and values her independence above all else. Avery's home in the country is her sanctuary, her escape from the emotional overload of her job. Her sense of peace is destroyed, beginning with the appearance of muddy boot prints outside her window.
Recently divorced, Officer Jake Marcovic needs a change of scenery. He leaves Chicago and his manipulative ex-wife behind for family and a much slower pace of living. Relocating back to his rural roots, he sees women as money-hungry opportunists and avoids commitment like the plague. His focus is on establishing himself in his once-familiar community and enjoying the women who appreciate a man in uniform.
When high walls are built up to protect hearts, what happens when they come crashing down?
Rating: Five stars. The third installment of the Coal Country series, this is a heartfelt romance with just the right amount of suspense. Hillary DeVisser was one of my featured indie authors earlier this year – you can read that post and find out more here.
The Wages of Sin by Kaite Welsh
Genre: Historical Fiction, Mystery, Crime
Blurb: Sarah Gilchrist has fled London and a troubled past to join the University of Edinburgh's medical school in 1892, the first year it admits women. She is determined to become a doctor despite the misgivings of her family and society, but Sarah quickly finds plenty of barriers at school itself: professors who refuse to teach their new pupils, male students determined to force out their female counterparts, and—perhaps worst of all—her female peers who will do anything to avoid being associated with a fallen woman.
Desperate for a proper education, Sarah turns to one of the city's ramshackle charitable hospitals for additional training. The St Giles' Infirmary for Women ministers to the downtrodden and drunk, the thieves and whores with nowhere else to go. In this environment, alongside a group of smart and tough teachers, Sarah gets quite an education. But when Lucy, one of Sarah's patients, turns up in the university dissecting room as a battered corpse, Sarah finds herself drawn into a murky underworld of bribery, brothels, and body snatchers.
Painfully aware of just how little separates her own life from that of her former patient's, Sarah is determined to find out what happened to Lucy and bring those responsible for her death to justice. But as she searches for answers in Edinburgh's dank alleyways, bawdy houses and fight clubs, Sarah comes closer and closer to uncovering one of Edinburgh's most lucrative trades, and, in doing so, puts her own life at risk…
Rating: Five stars. A highly enjoyable read – I am looking forward to the next installment in the series already. Read my full review here.
The Bachelors by E S Carter
Genre: Women's Fiction, Romance
Blurb: It is a well-known fact that a single man without a penny to his name must be in want of a rich wife.
Darcy, Bingham and Wick Austen are about to lose the family business.
Without a miracle or a substantial cash investment, Austen's – the bookstore chain that was established by their great-great grandfather – will go into receivership.
A chance encounter at a charity ball with the attractive, single and filthy-rich Bennet sisters has Wick Austen convincing his brothers that the way to save their livelihoods rests at the Bennet's red-soled-shoe clad feet.
But these three women are far more than your average, simpering, society-loving heiresses.
Darcy isn't so sure about his youngest brother's plan, especially when the smart, feisty and ridiculously sexy Eliza Bennet shoots down his advances in a ball of flames, and accuses him of being a proud and egotistical jerk.
Meanwhile, Bingham meets the sweet and approachable Jane, and insta-love ensues, and Wick gets used up and spat out by the youngest and most flighty sister, Lydia.
Will the Austen bachelors secure a wife and save the family name or will they become the Bennet sister's latest conquests?
Rating: Five stars. A sassy modern tale inspired by Jane Austen's classic novel, Pride and Prejudice. In addition to The Bachelors, E S Carter is the author of the Love by Numbers and Red Order series – more about these over on Goodreads.
Nasty Women by 404 Ink
Genre: Non-Fiction
Blurb: With intolerance and inequality increasingly normalised by the day, it's more important than ever for women to share their experiences. We must hold the truth to account in the midst of sensationalism and international political turmoil. Nasty Women is a collection of essays, interviews and accounts on what it is to be a woman in the 21st century.
People, politics, pressure, punk – From working class experience to racial divides in Trump's America, being a child of immigrants, to sexual assault, Brexit, pregnancy, contraception, identity, family, finding a voice online, role models and more, Laura Jane Grace of Against Me!, Zeba Talkhani, Chitra Ramaswamy are just a few of the incredible women who share their experience here.
Keep telling your stories, and tell them loud.
Rating: Five stars. An excellent and thought-provoking read. Read my full review here.
Glasdrum by Fiona MacBain
Genre: Mystery, Thriller, Crime
Blurb: One town. Five women. Dark events.
Life is not easy for the women of Glasdrum…
A skeleton is unearthed, too many walkers are falling to their deaths off mountain cliffs, and the local pub doesn't know how to make a decent raspberry daiquiri.
Single mother Megan is a hill runner and cannabis dealer, an unlikely friend of well-to-do Finella, whose confident appearance hides struggles with her unpleasant husband and unruly children.
Vicky is Finella's child-minder, and when Finella's husband starts digging about in her past, he discovers she has a secret. How far will she go to protect it?
Glasdrum is a culture shock to Londoner Sarah, but she finds friendship with local journalist Catriona, recently returned to her home town but haunted by memories from her past.
The women battle through daily life while the spectre of death looms over the town. Could one of them be living with a killer?
Rating: Five stars. A gripping read, perfect for enjoying from the comfort of your sun lounger. Read my full review here.
And there you have it! This is my final post of this year; therefore I'd like to take the opportunity to thank you all for your support during 2018, and to wish you a very merry Christmas and a happy new year.